Floating pool lights are not only a way to light up the poolside area and step up the game of aesthetics and attractiveness, but they also offer safety paramount.  Also, they illuminate the swimming pool area very well during the night for you to have a fun night.
However, buying them can be overwhelming, especially when they come in different shapes, sizes, and colors. Also, the ones that flare up your fountain area with a little added drama should be brought according to your needs.
But we know it gets difficult to buy the right one, and that is why we are here to help you. We bring for you this guide that will help you in deciding the one you want for your swimming pool. Let's start by assisting you.
Top 5 Floating Pool Lights
If you're looking to light up your swimming pool area into dazzling colors with extraordinary features, this floating light is your ideal pick. Its impressive features include the customizable adjustments into five brightness settings along with four lighting modes – flash, fade, strobe, and fade. Not to miss that they can be used either as night lights or mood lights as per the ambiance.
They form a part of the perfect outdoor decor by their fascinating look and equally useable for your swimming pool as they are waterproof.
The lights come in 16 static RGB colors with a remote control to change the colors or setting. Also, for easier use, the button on the ball to be pressed for softer colors. 
They are perfectly eco-friendly lights that are free from UV, mercury, or lead. It makes an ideal choice for use when around with children or pregnant women. It comes in a sleek matte finish surface with spherical shapes that makes it more comfortable.
Also, this light ball by LOFTEK comes with fast charging technology with a 2200MAh upgraded battery. The battery of the light can be fully charged in about 2.8-3.8 hours with a running 10-12 hours of working.
The company aims at satisfying its consumers for which they have promised an assured 1-year free replacement of the product. In addition, it guarantees a 35 days quick return service. All in all, these features make this product an ideal choice.
These floating lights by Esuper come in impressive four changing colors that automatically after 15 seconds. They can be used both for outdoor and indoor decors that serve as multi-purpose floating pool lights. The ball radiates soft light that doesn't harm eyes, which makes the overall experience very soothing.
These floating lights can be put into charging through solar energy, which lasts for 8 hours that makes it eco-friendly in use. Also, they automatically turn on in dark areas, giving a stunning effect to your poolside area. The material used for making them is vinyl that inflates the ball for a sturdy stand in any place.
They are completely waterproof with a solar energy glow that makes them highly attractive among eco-friendly customers. Another feature of these floating lights is that a hook is provided for comfortable hanging in outdoor landscapes or use as decor during weddings.
The company offers a 12-month warranty of the product against quality issues with an easy replacement policy. So, what are you waiting for? Just toss these balls near your pool or hang them up for a glittery night?
These solar pool lights come in sphere shape with ease in deflating or inflating the ball. The lights can be set in different colors like yellow, red, or blue. Also, they come with customization features in different modes as well. Their addition to the swimming pool or rooms adds vibrancy and aesthetic to the entire area. They can be used for hanging purposes in the church or backyard so as to give it a perfect look.
Also, they can be either be charged through solar energy or by DC as well. So you needn't be worried about their charging on not sunny days as they are DC powered too. They are weather-resistant, which makes them easy to use on cold winter days or cloudy summertime. 
It is made of PVC material that makes it sturdier and a reliable and durable choice against lights of hard plastic material. Not only are they waterproof to toss around in swimming pools, but they can be used during windy or stormy days.
The company assures a customer satisfied purchase with a full refund of on your money for replacement even beyond 30 days. Not to mention, their amazing customer care service is at your help to solve any quality queries of its customers.
Also, they are waterproof lights that come with bright changing color that resonates the entire poolside set-up with their charm. They are perfect for use as wedding decor, both indoor and outdoor. Not to mention, they make the night a little more romantic and cozy.
Also, a guide comes along with the delivered package to assist you with the proper use of these lights. The company promises to provide assistance in quality-related queries through an easy to contact customer support staff. The beautiful shape of the lights is the main attraction of the product, along with amazing features.
These are the color changing floating lights by pearlstar for both outdoor and indoor decoration purposes. Their soft light sets the perfect atmosphere for a night poolside party or dazzling garden party. What makes this product more convenient to use is the remote control system enabled for switching the lights on or off.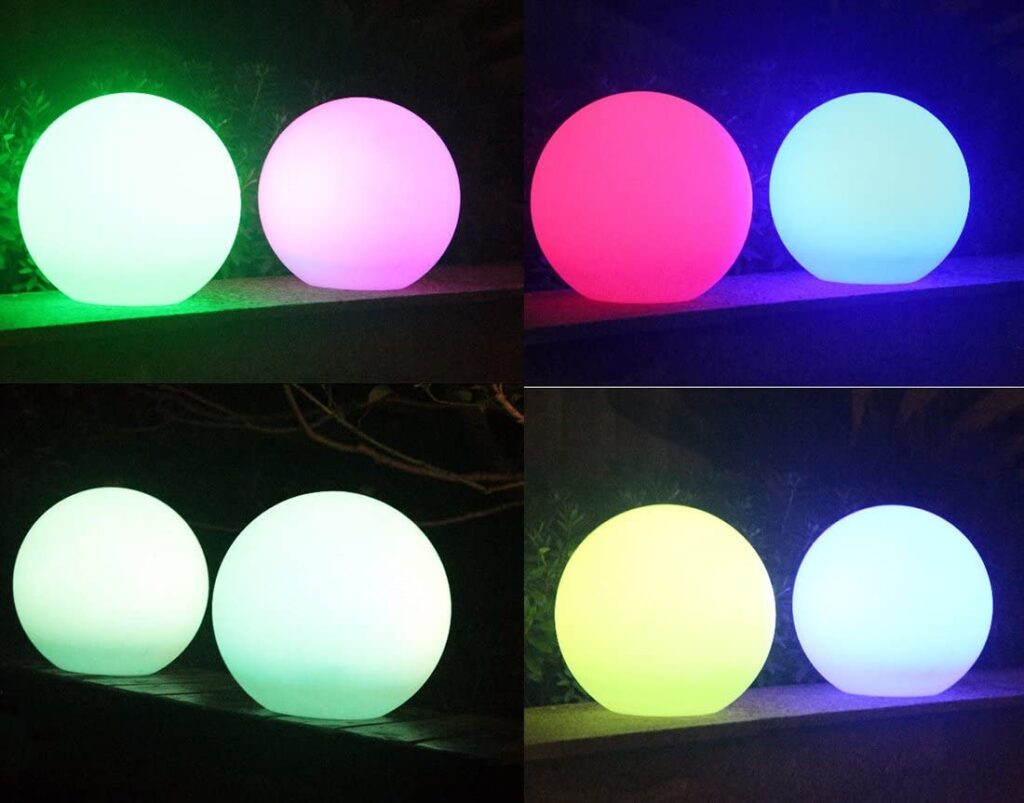 These solar lights come with 4 LED bulbs that can be charged by solar energy without wastage of electricity. It lights up the entire area for about 6-8 hours when fully charged. Not only they are environment-friendly but also save energy.
When it comes to safe usage of the product, it can be used around children or a pregnant lady can it doesn't radiate UV rays or contains mercury or lead. Thus, their IP65 water resistance makes it easy to use for all purposes.
The product is 12 inches and is suitable for children to hold and easy to carry. All in all, these globe solar lights are of good use to create a serene atmosphere or set the mood for holiday parties.
Factors To Consider While Buying
We have reviewed for you our top 5 floating lights to set your swimming mood. It is quite common to have confusions when it comes to picking the favorite product. So, don't worry because we bring for you the best features to be kept in consideration while buying floating pool lights.
Durability
You would want to invest your money into something that enjoys the long run. Only good pool lights provide the comfort of the long-lasting feature with extraordinary quality material. However, this feature is not always easy to found. Durability is an essential feature to look up when you are to use the product in water.
Thus, you must do extensive research before ordering any product. Going through verified reviews is one way of being assured that the product can be used in the long run. Also, highly-reputed companies sell good quality products, so digging deep about the company's reliability is important. 
LED Light
LED lights are preferable over halogen floating pool lights as they offer power. Also, they are more reliable products for use as they consume less power than halogen lights. They illuminate the room more powerfully with energy efficiency expanse that makes them highly demanded in the range of pool lights.
When it comes to pricing, they are available at a cheaper rate with high features and bright colors. Amazon sells a handful of pool lights that are LED and well-made. Therefore, with a little research and the right pick that fits your need is perfect to buy.
Type Of Light
You can also take into consideration the type of light that you want for your swimming pool. There are a number variety of lights available on Amazon that will fit your need, so it is important to keep this factor in mind as well. For instance, if you wish to buy a multi-purpose light that is floating as well as can be hanged for decor purposes, it is necessary to search for this feature then.
The type of lights you use not only makes a good impression but also dominates the enhancement of your place's aesthetic vibe. Thus, decide on the types of lights that you want to buy for your area and then start searching.
Eco-Friendly
While you're planning to buy lights for your poolside area, it is important to know whether they are environment friendly. Such lights not only save up energy, but their eco-friendly material is safe to use. Especially if you are a nature lover, then going for eco-friendly lights will be more satisfactory.
Therefore, ensure that you're product ticks-off the eco-friendly feature.
Safety
Whenever you're buying pool lights, it is extremely important to check if those lights pass the safety check or not. Not to mention, these lights have chances of blowing up, and with children and pregnant ladies in the pool, that can be dangerous. Also, many people go out to swim during the night or have a late-night pool party, so it is essential to make sure they are safe for use.
Many providers on Amazon provide safety check assurance so you can better check for it before buying that product.
Entertainment Value
Well, if you're buying floating lights, they should not only illuminate the dark areas well but prove to be of some entertainment value. There are various ranges of pool lights that can come with high entertainment value, from static to changing modes, brightening settings, or changing colors. Thus, you can buy the one that gives your pool a stunning effect.
Price
Let's just say this – price dominates your buying. We talk about this as the last feature, but it is necessary to keep in mind the pricing of the product. You can compare the features that the product offers with its price to know whether the lights are worth it or not. However, we do not advise to go for the cheaper lights as they run only for a short period of time.
In this guide, we have made you familiar with our top 5 floating lights product that illuminates dark spaces well and adds beauty to your pool. Floating lights are the fun element that you would want to mix up within your party to create a perfect ambiance. So, it is very important to buy them according to the occasion and space you are to use them for.
We hope our research was helpful in assisting you with the perfect floating light that will fit all your needs.
Subscribe & Get The Latest News