Some know them as bathroom mirrors and others refer to them as bath mirrors.
Generally speaking, choosing a bathroom mirror is definitely not one of the easiest tasks for your home. The truth is, overlooking a mirror is easy. When you look at a mirror, you see a reflection of so many other things that it is difficult to notice what you actually need and how to get it.
But when it comes to the best bathroom wall mirrors, things are looking good – mostly because there are so many choices and mirrors for your bathroom. There are options for size, style and shape.
So, how to choose a bathroom mirror for your needs?
First on the list of things you should consider is size. Typically, bathroom mirrors are not much wider than the vanity  or the elements below. The idea here is to choose one that complements your bathroom elements and make the mirror exactly as wide as the elements or vanity below so that they line up in a perfect way.
Next is the functionality. If you have a wide vanity with multiple sinks, you can either use multiple mirrors or one single mirror that is wide enough to service both. Another great approach is to use several tall and skinny mirrors to give your room a more vertical look and emphasize the height of the space.
Basically, the best framed bathroom mirrors are ones that complement the vanity and other elements. Below, we are listing our best picks to help you find the right one for your needs.
This bathroom mirror comes in 2 variations – with a 32" x 24" border and with a 36" x 28" border.
Packed with an anti-fog function, it boasts a 20mm aluminum frame with moisture proof stripe which eliminates the troubling fog automatically.
That being said, there are no worries about the steam and you can remove things manually.
The touch button also allows you to turn the lights on and off or adjust them on a higher end than the traditional switch. The button flashes when the light becomes the brightest or the darkest. The dimmable function comes with a button which can be touched so that the light is properly adjusted (from 1600 to 1800 lumens).
With a modern design inspired by the contemporary style, this is an all-around bathroom mirror that offers a great value for money.
Moen is another one of the best bathroom mirror manufacturers – manufacturing a model that is elegant and frameless.
There are pivoting hardware tilts that change the mirror angle. The oil rubbed bronze finish creates an antique look.
Another great thing is that this Moen bathroom mirror comes with a quick and easy installation and is backed by the brand's Limited Lifetime Warranty. All of the mounting hardware and a template for installation are included.
The sleek frameless look makes this bathroom mirror pretty universal – which means that it can perfectly fit various bathroom decor styles.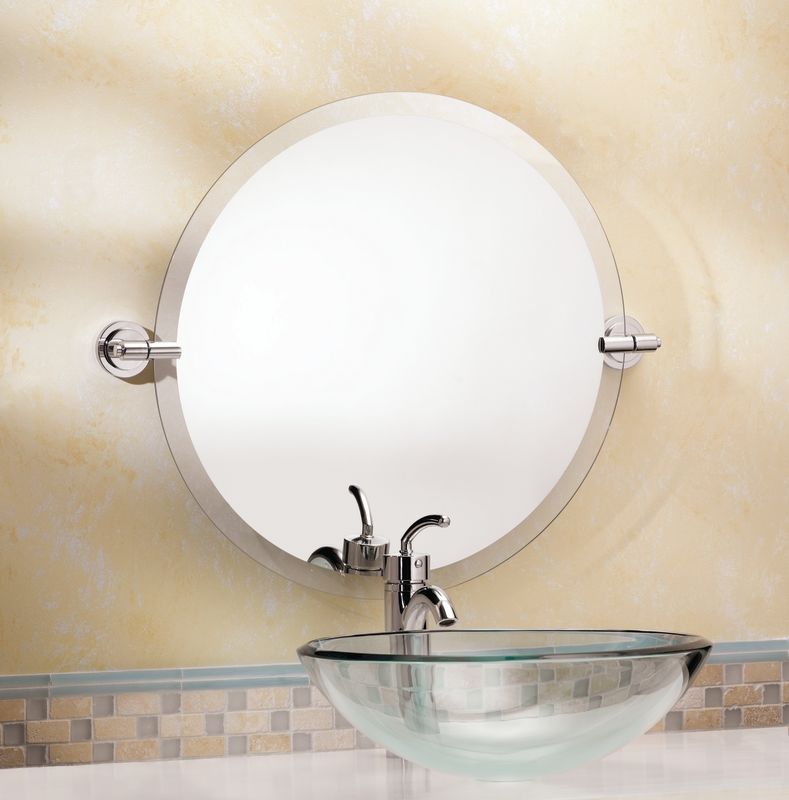 Headwest has manufactured one of the best-selling bathroom mirrors with this model.
The mix of modern and contemporary is what makes the design timeless.
Made from brushed nickel, it looks very updated and fits any modern toilet. The pave style look on this beveled mirror features a wide 3.25 inch frame.
Just like other rectangular models, this mirror can be hung vertically or horizontally. It measures 29 inches by 35 inches which is practically the universal size for most bathroom mirrors. You can even buy more of this mirror for any bath.
This frame bathroom mirror can be used in any bedroom, bathroom or foyer.
The sturdy engineered-wood construction features a purely white finish and a ledge style shelf that is designed to offer maximum space for small bud vases, collectibles and main accessories that come in the bathroom.
What's beautiful is the design which is made from beautiful crown molding and detailed frame edging. The framed mirror features are based on a sturdy engineered wood design that features a classic white finish. Functional, elegant and with a beautiful molding, this is one of the most universal bathroom mirrors available out there.
This is one of the most minimalistic rectangle bathroom mirrors that comes in a solid chrome build.
There are different styles to choose from, including a frameless or framed rectangle look, a frameless oval and a framed oval look.
There are also different available sizes including the 24 inch, 25 inch, 26.5 inch, 27.5 inch, 31.5 inch, 32.5 inch and 33 inch which makes it pretty universal for anyone's needs. Regarding color, you can choose from chrome, matte black or satin nickel.
Without shortcuts taken, you can easily mount this product on a variety of surfaces including tile and drywall.
The brand has manufactured bathroom mirrors since 1977 and always includes a Lifetime Warranty along with all the necessary mounting hardware and installation instructions – all of which applying to this model.
We hope that these bathroom mirror models will help you choose the perfect one for your bathroom. Good luck!
Subscribe & Get The Latest News