Rug Doctor has continuously been on the top for inventing ergonomic and home-friendly designs, which make cleaning the house an enjoyable experience. Stray away from expensive professional cleaners when you can settle for the affordable machines.
Rug Doctor has efficient and powerful housework units that will make your house looking stunning. These diverse machines will cater to all needs like deep cleaning, everyday use, and accidental spills. Invest in affordable home appliances by Rug Doctor and make your house look clean and fresh every day.
Top-rated Rug Doctor Products on Amazon
Rug Doctor Pro Carpet Cleaner is a strong machine standing at 35.3 pounds and a cord length of 22 feet. Its weight is not a hindrance to its maneuverability. The center of gravity of the machine is in the center, so it provides easy handling. A huge water tank of capacity 1.5 gallons with a transparent container so that it is easier to clean. Rug Doctor Pro also sports an 11-inch cleaning path for undisturbed cleaning experience in one shot.
The brushes have deep penetrating power and suction abilities to jimmy out all the micro dust particles stuck inside the carpet fibers. A complete hassle-free cleaning process simplified by cleaning experts Rug Doctor. The elements that constitute the Rug Doctor Pro Carpet Cleaner are thoughtful and make domestic cleaning a truly professional level experience.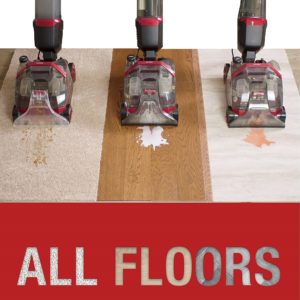 A well-made machine body which is intended to be tough on stains and eradicates dirt and odor from carpets. The Rug Doctor FlexClean All-in-One Floor Cleaner on sealed hardwood and carpeted surfaces. The machine also has 2 lightweight tanks that are removable for easy cleaning and disposable. The rotating brushes give the much needed deep cleaning to your carpets and floors to truly remove every trace of dirt.
It's a one-stop cleaning solution to eliminate all the dust, grease, grime and unknown gunk from all floor surfaces. The Rug Doctor FlexClean is designed to operate with the ease and manoeuvrability of a vacuum cleaner. A truly diverse machine which can operate on tile, carpet, stone, hardwood, rugs, laminate, upholstery, furniture, etc.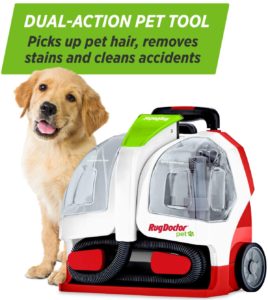 An ideal compact cleaning companion, Rug Doctor Pet Portable Spot Cleaner, will make a staple in all households. Are you tired of your furry friends leaving dirt and making a mess? It's tough to discipline them, but it's easier to get a pet-friendly cleaning solution so that your furry friends can have an unlimited fun time.
The Rug Doctor Pet Portable Spot Cleaner is designed to eliminate strong dirt stains and odor. Heavy-duty rubber brushes, which will pick up all the pet hair.
The Rug Doctor Portable Spot Cleaner has twice the suction power to extract all the grime and mess from everyday urine and vomit accidents. With carpet safe wheels, this cleaning device is truly portable. Works pretty much everywhere, like couches, carpet corners, car seats, mattresses, and rugs.
With Rug Doctor Portable Spot Cleaner's multi-purpose cleaning abilities to deliver a safe, healthy environment for your four-legged cuties. Give unbounded freedom to your lovely pets with the hassle-free clean up after.
Rug Doctor is the leading wholesome household cleaning solutions with its top-class machinery. Why invest your hard-earned money in getting cleaning services, when you can rent any Rug Doctor products and do it yourself for a fraction of the price! Let's see some of the features that the Rug Doctor's product offers.
Features of Rug Doctor Cleaning Products
Professional deep cleaning 
All Rug Doctor cleaning equipment has professional-grade cleaning abilities. After mere use, you will feel the difference in how odor-free and clean your surroundings are! These devices have heavy-duty brushes and suction powers to extract and eradicate the deepest of dirt stuck in soft fabrics like carpets, rugs, mattresses, etc.
Multi-purpose machines
Rug Doctor has some of the best diverse use machines which you can use on a variety of surfaces. These provide portability and affordable resolution to your everyday mess removal. Rug Doctor has all-round solutions to give your home or working space a healthy glow. 
Pet friendly
Rug Doctor has a range of pet-friendly cleaning machines and cleaning liquids which are focused on cleaning the untidiness that your pets leave. They have special bristles and suction abilities to extract the last of the pet hair and dirt.
Rug Doctor continues to outdo their previous models and come up with better cleaning solutions for a healthy working and living space. For all-round commercial-grade washing solutions for mixed-floor, all surface cleaning trust none other than Rug Doctor!
Subscribe & Get The Latest News