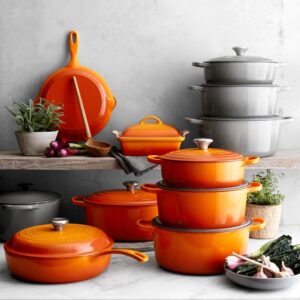 When choosing a Dutch oven to invest in, the one question that always lingers in your mind is what size Dutch oven to get. Well, today, we are going to make this process easier for you. In this piece, we will break down the steps on how to choose the right size for your Dutch oven.
Dutch ovens are amongst the most versatile cooking equipment you will find in any kitchen. Using this tool, you can simmer stews and soups, bake bread, roast chicken, and even craft the heartiest sauces. Yet, it is the sturdiness and heavy duty build of Dutch ovens that draws many of us to it.
It is this same heavy duty and sturdiness that make a Dutch oven a lifetime investment. Thus, it is important to know what size Dutch oven you should get. So, keep reading below to find out what size Dutch oven size to get.
Oval vs Round
Before we jump right into different Dutch oven sizes, it is worth noting the two main Dutch oven shapes, i.e., oval and round. After all, they do play an important role when deciding what Dutch oven size to get. Generally, many people prefer to opt for a round shape over an oval-shaped Dutch oven.
During cooking, a round-shaped Dutch oven fits much better on a burner thus, facilitating even heat distribution. Additionally, a round-shaped Dutch oven allows you to line more ingredients in it compared to an oval-shaped one.
Furthermore, when it comes to versatility, a round-shaped Dutch oven does a better job – thanks to its even heat distribution on a stove, it allows you to cook different types of foods. However, other people prefer an oval-shaped Dutch oven, especially when cooking large cuts of meat. For example, a large rack of slow cooked ribs would fit much better in an oval-shaped Dutch oven than a round shaped one.
What Size Dutch Oven Should I Buy?
After deciding what shape Dutch oven to opt for, the next step is to dive into the main topic – the size.  In the market, you will find small Dutch ovens that measure as little as ¼ quart. But, you will also find large Dutch ovens that measure as much as 13 quarts.  A ¼ quart Dutch oven equates to 8 fluid ounces whilst a 13 quart Dutch oven equates to 416 fluid ounces. Therefore, you will have a wide selection of options to choose from depending on your cooking needs and preferences, feeding size, and even budget.
¼ Quart Dutch Ovens
These are the smallest of the batch and are ideal for single servings. Whilst Dutch ovens are favored for their versatility in cooking, they also add style to any table. Therefore, if you are into stylish serving, you definitely want to get ¼ quart Dutch ovens.
So, the next time you host your friends, everyone can enjoy their freshly baked bread served individually in their own small Dutch oven – their individually portioned serve ware. However, this is generally the most you can do with a ¼ quart Dutch oven. You can probably put together sauce to serve two people.
The bottom line is you can't use a single 14 quart oven for a family of more than 2 people or a large gathering. Therefore, if you have the budget for it, you can always add these Dutch ovens to your kitchen as stylish single person serve ware.
3 and 4 Quart Dutch Ovens
3 and 4 quart Dutch ovens equate to 96 and 128 fluid ounces, respectively.  These types of Dutch ovens are ideal for singles, couples, and families of three to four people. 3 to 4 quart Dutch ovens are adequately sized to accommodate most meals whilst also very easy to maneuver around stoves and ovens.
These sizes comfortably fit most stove burners as well as standard sized home ovens. In fact, you don't have to hide them away in the cabinet and haul them back and forth when you want to use them. Thanks to their decent size, you can simply leave them on the stove without them taking too much space.
Plus, they are not too big or too small to make your meals in – thanks to this size, you can use these size Dutch ovens to make main dishes, not just sides. When it comes to the price, these size Dutch ovens are not too expensive either.
5 to 7 Quart Dutch Ovens
Now, for a standard size family and household, these Dutch oven sizes are the ultimate choice. 5 to 7 quart Dutch ovens equate to 160 to 224 fluid ounces, respectively. These size Dutch ovens are ideal for making either main dishes or sides for four to five people, with a chance of some leftovers. For many home cooks, this is a favorite size range as well.
In fact, many people go for sizes 5½ to 6 quarts when choosing Dutch ovens from this size range. Whilst these Dutch ovens serve significantly more people, they are still adequately sized to fit comfortably on your stove burner and standard home sized ovens. Additionally, they can accommodate larger food types and meats such as whole chicken stew or roasted turkey.
Over 7 Quart Dutch Ovens
These size Dutch ovens are designed for large families of 6 and more or for individuals who host a lot. With these size Dutch ovens, you can fit as much food to feed a crowd, be it a large leg of lamb or a pot of meat stew.
If you have a smaller family or don't host as much, you will be wasting your money going for a Dutch oven that measures more than 7 quarts. These larger sized Dutch ovens don't only unnecessarily take up your kitchen space but make you feel like you are lifting weights at the gym when you try to carry them. We don't mean the measly 10 lbs. dumbbells, we are talking heavy stuff.
Conclusion
With this guide, deciding what size Dutch oven to go for has never been easy. In addition to the number of people you intend to serve, always think of what you will be cooking to choose the ultimate Dutch oven size.