If you've recently purchased the Best Dishwasher, then you might be wondering how you can plumb it to your garbage disposal. The first thing that may have come into your mind is to well, call a plumber. However, that would cost some additional money. Usually, such things can be turned into a DIY project. Not only would you have the opportunity to learn, but at the same time, it can be fun if you know what you're doing.
In fact, you are, often going to see a dishwasher and disposal being connected to the kitchen sink. This does not only help in ensuring that the water properly goes down the drain, but also helps in avoiding a major mess. Thus, if you want to save your energy and time, then it is highly recommended for you to get it done.
Therefore, if you were wondering how you can plumb a kitchen sink with disposal and dishwasher, then do not worry. We will walk you through to not only make things affordable but also easier for you.
Plumb Kitchen Sink With Garbage Disposal
Tools Required
Hammer Piles
Screwdriver
Hammer Piles
Hack Saw
Step 1: Know the Parts
It is first important to properly familiarize yourself with all the parts disposal comes with. First, check if they're properly fitting at their locations to avoid unnecessary headaches later.
Step 2: Plumber Putty
Search for the right plumber putty to apply on the flange. Exert small pressure until it falls into place. (Pro Tip: setting the disposal on the collar can prevent it from moving.)
Step 3: Tighten the Screws
Once you slide in the fiber gasket, mounting ring and backup flange underneath the collar, you can now install the snap ring and tighten the screws. However, bear in mind to clean if there's excessive putty.
Step 4: Remove Wire
You can locate a wire cover plate underneath where you can find an electrical cord. Make sure to properly match the wire colours before you connect it. Although it shouldn't be a problem, make sure you're super careful with this step.
Step 5: Remove Drain Plug
The drain plug can be a bit persistent, the best way to remove it is usually with the assistance of a hammer.
Step 6: Connect Drain
Now, the gasket needs to be inserted into the discharge outlet gently so you can attach the discharge tube and connect the drain. After that, simply hang the garbage disposal while ensuring that the mounting ring is properly aligned. After that, lock the tabs with the help of a wrench.
Installing a Dishwasher to Garbage Disposal
Tools Required
Screwdriver
Dishwasher Install Kit
Air Gap Fitting
Utility Knife
Compression Clamps (2x)
One Inch Hose Clamp
Light Hammer
Rubber Compression Washer (2x)
Step 1: Turn off Water Supply
After the installation of garbage disposal, connecting the dishwasher is pretty straightforward. But make sure that you completely turn off the water supply first.
Step 2: Unplug Power
The power of garbage disposal also needs to be unplugged to be on the safe side.
Step 3: Knockout Plug
With the help of a hammer and a screwdriver, remove the knockout plug after locating it in the hose nozzle.
Step 4: Insert Runner Washer
Locate the air gap fitting hole behind the sink and insert a threaded stem. After that, the runner washers can easily be inserted. Make sure while tightening the cap, you use your hands rather than a wrench or pliers.
Step 5: Rotate Air Gap
Rotate the air gap until the nozzle doesn't point towards the disposal. Then push the hose of the disposal gently to the other end and fit it using a hose clamp. Note that you need to use a screwdriver to tighten once you have inserted the lower clamp.
Step 6: Hose Length
Make the length of the hose sizeable by using your utility knife to make sure it fits perfectly to the air gap nozzle.
Step 7: Insert Hose Clamp
Use the one-inch clamp and insert it to the dishwasher hose. While doing so, make sure that the hose is at a sizeable length to align properly with the vertical nozzle. Lastly, tighten the end with a hose clamp after it has been inserted to the vertical.
Safety Measures
Before you do any DIY project, proper safety measures are essential. While there's not much room to go wrong when you're plumbing a kitchen sink with disposal and dishwasher, it is best to turn the power off. Apart from that, the use of safety gloves is also advised as they're a staple of every DIY project.
Lastly, make sure when you are using any tools, they're handled with care. Do not exert too much pressure and most importantly, this is a job that needs to be done with patience. Thus, take things step by step.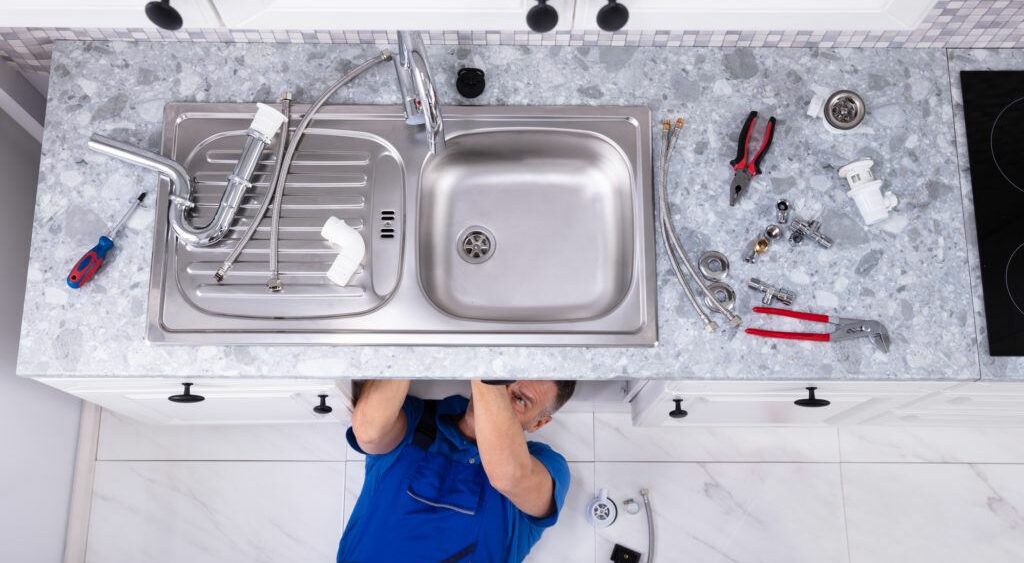 Things to Keep in Mind
It can be frustrating once you start working on the project and have to stop midway. Always double check if you have all the necessary tools to get the job done. We've listed pretty much everything you're going to need to get the job done. Thus, refer to the list above so you can smoothly get the job done.
Conclusion
We have discussed everything you needed to know on how to plumb a kitchen sink with disposal and dishwasher. Although it isn't as hard as people think, for beginners who do not have experience with DIY projects, it can be a tad challenging. Nonetheless, it is doable considering how you will also be able to save some cash.
If the instructions are properly followed, you'll be able to get the job done in no time. After all, not only will it be a good learning experience but also, you wouldn't have to rely on plumbers to do it for you. So we hope you can now effortlessly plumb a kitchen sink with disposal and dishwasher.