Microwaves are one of the most important appliances you will find in any kitchen. These electric devices bring immense convenience and comfort to our homes. We have become accustomed to microwaves and use them in our daily lives.
It is very important to make the right pick for your home. The size, the power, and strength of microwaves differ from one model to another. If you are planning to buy a microwave, then you should go through a few reviews and guides to learn more about it.
Continue reading this Criterion Microwave review to find out everything there is to know about this appliance.
Criterion is one of the leading brands in home and kitchen appliances. Their products prove quality and excellence with every use. We can anticipate similar results from the Criterion Microwaves. This brand has many models of microwaves. Each differing from the other in specification and features. However, their performance and quality of products unite them to the brand.
The Criterion Microwave 1.6 cu. Ft. is a hot topic of conversation among buyers. This microwave is a rather large model by Criterion and comes with top-notch features. The strong build and finish of this microwave sure make it an attraction in your kitchen.
The neutral color palette ensures that this microwave will fit any setting or kitchen interiors. If you are not satisfied with the classic black and stainless steel design, you can also get this microwave in all black. The sleek all-black model is a great fit for modern or contemporary interiors in homes.
This microwave can be used for a variety of purposes. You can cook food, reheat your food, or use it for meal prep. A large number of uses are an important reason why this microwave is a great option for your homes.
The microwave is not too heavy as compared to other models. It can fit easily in any space, and you will not face difficulties in moving it from one spot in your kitchen to another. If you cannot accommodate the Criterion microwave 1.6 cu. Ft. model, then you can opt for other models from the same brand.
The Criterion Microwave is a modern appliance with a sleek design. The product comes in two variants of different designs. The classic design from Criterion features a black model with stainless steel accents. Whereas, its counterpart is a completely black model throughout.
There are no differences in the features of these models. The microwaves come with a touchpad that allows you to control the settings within. This sensitive touchpad features many pre-loaded functions that make your job easier.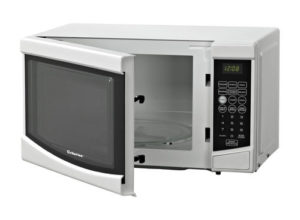 When you go ahead and buy the Criterion microwaves, you can expect to find the microwave along with the user guides and manuals. This microwave is very easy to use. The buttons available on the touchpad are limited in number and straightforward.
If you are following a recipe, you can easily input the cooking details using the buttons on the keypad. This microwave is very useful in the kitchen because you can cook almost anything with it. Unlike most microwave devices, there are very limited restrictions regarding food items with the Criterion Microwave.
You can easily cook different types of potatoes or make popcorn. You can also make pizzas from scratch in the Criterion microwave. This microwave is great for making other beverages, defreeze frozen entrees, or even reheat cooked food. You can also make fresh vegetables, ground meat, and seafood in the Criterion microwave.
The Criterion microwave comes with numerous features essential for an everyday kitchen appliance. The total size of this model is 23.2″ W x 18.3″ D x 13.3″ H.
This microwave is an affordable option compared to other brands. You will not find a better microwave at this price point. The Criterion microwave runs at 1100 Watts on average. You must consider the power consumption of electric appliances for financial purposes. However, this microwave will not make any significant changes in your electricity bills.
The microwave comes with nine pre-installed functions for cooking, which makes it easy for you to cook food. You can also reheat your food with the 1-minute add time button. This button adds an extra minute to your cook time.
For safety reasons, the Criterion microwave also has a child lock system. You can leave your kids unattended around this machine and not worry about any complications. The Criterion microwave is perfect for families because of this reason.
The total size of this microwave is 1.6 cubic feet. This gives you and your family enough room to cook dinner for many people. You can install this microwave in any corner of your kitchen because it comes with a 39-1/4 inch cable. This length is perfect for households of any size.
If you feel like the pre-inputted power levels are not enough, you can manually set the temperatures of your microwave. You can cook all types of foods with the 11 power levels of the Criterion microwaves. The total weight of this microwave is 36.6 pounds.
Criterion Microwave Conclusion
Criterion is a revered company for kitchen appliances. If you wish to buy a medium-strength microwave at an affordable price range, the Criterion microwave is a good option for you. With all the basic amenities and features, you will be satisfied with the quality of this microwave.
You can always opt for more expensive versions of these microwaves for a bigger size. However, the features and their quality will remain the same. So, if you are looking for an easy to use the microwave, the Criterion models are a good choice for you!
Subscribe & Get The Latest News