Pool maintenance required rigorous dedication. Once you are finished with the summer maintenance that each pool required, now is the time to consider winterizing the pool. What is an essential part of this process? Using a pool cover!
Seldom will you see a clean pool cover that doesn't have puddles or dirt accumulated over it. Standing water over the cover not only invites insect infestation but also reduced the lifespan of the cover. Therefore, you must use a pool cover pump to pull the water and dirt from the cover and throw it out of your house.
Buying a pool cover pump is a straightforward process. However, due to the massive variety available, you might need help. We have listed the best pool cover pumps that you can find in the market for your convenience.
Best Pool Cover Pumps - Product Reviews
Buying any product becomes easy by multifold once you read and compare product reviews. Therefore, in this section, you will find reviews of some of the best pool cover pumps you can buy. You could choose a product directly from this list or refer to their quality to make your own purchasing decision. So, without further ado, let's get to the reviews!
The pump has a 25-feet power cord and a 25-feet rope to position the pump on the cover. This ¼ HP pump can pump out 3,000 gallons of water within an hour with only a 1.25-inch hose.
The pump features an in-built iSwitch technology that is an efficient way of turning the pump. The pump does do by utilizing its sensors to check if there is any water in the vicinity. It also comes with an automatic freeze protection function. Through this function, the pump protects itself from any winter-related damage.
You can leave this pump on the cover without any worries. Since it is completely submergible, you will not have any problem at hand even if it falls into the pool. It also comes with a filter that keeps debris from clogging or tipping the pump.
The Little Giant Pool Cover Pump is capable of cleaning about 550 gallons per hose. Therefore, you will require some time to clear off sanding water from your pool. This pump features an intake screen that does not allow dirt to clog the hose.
Although you will be operating this manual pump yourself, the submergibility of the pump is a relief. This is because even the machine is small, it can tackle a pumping job of any size that comes its way. 
This pump is easy to set up as all it needs is a power connection and a hose connection. If you choose to leave this pool cover pump onto the cover, you do not have to worry about the chassis weighing down the cover. This is because it is a lightweight product.
The pump can remove 600 gallons of water every hour, which is no too fast but decent if you don't live in areas that witness heavy rainfall. The motor comes with a 110V compatible power cord and a 22-feet kink-proof heavy-duty hose. You can remove water from any depth of the pool with this pump without worries.
With the capability of pump 1745 gallons of water per hour, this is a wonderful buy for people living in rain-prone areas. Leave this pump in the middle of the pool cover, and you will never have to worry about your pool cover accumulating water and dirt.
Speaking of dirt, the pump comes with an intake screen that cleans debris but does not allow it to clog the drain pipe. Since the machine also features an anti-tip over feature, pool maintenance and cleaning become a piece of cake. The 25-feet cord allows the pump to be plugged into a far-away power source.
When the pump sense 2-inches of water accumulation, it will automatically turn on and clean your pool cover. Another great thing about this pump is that it is designed in a portable manner. It is lightweight and easy to handle, and hence can be taken in and out of the pool without any issues.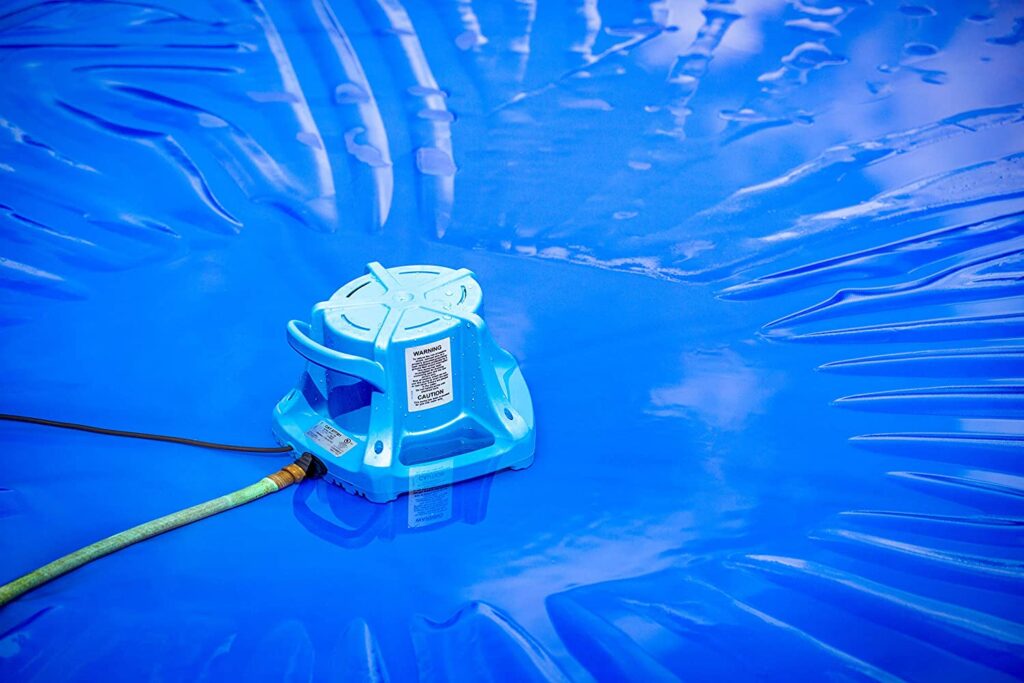 This utility pump can pump off at least 1,800 Gallons of water per hour. Therefore, you can use it in heavy rainfall areas without any issues. Its thermoplastic construction heightens the longevity and efficiency of the pump. It also helps the pump be supremely lightweight and easy to use.
The pump can hold debris and not fall over from things such as pressure, vibrations, etc. Even though similar to all pool cover pumps, it cannot pump off ice and snow; it is resistant to them. Therefore, you will not have to worry about it slipping off on ice or freezing due to snow.
The pump is compatible with the standard 0.75-inch garden hose. It comes with a 10-feet long power cord. The removable suction screen present in the pump is capable of handling about 0.125-inch of solid dirt. It is capable of pumping 25-inches of standing water.
This is an extremely efficient motor that can balance its water intake system. It can reduce the energy consumption level by half when necessary. The maximum flow-rate offered by this pump is 350 gallons per hour. It has a balanced water intake because it has a minimal head drop when used for a long time.
In case of water contamination, it has a mesh screen that filters out solid debris. Since the foundation is durable and designed to give maximum stability to the pump, it can be placed on the pool cover's surface.
This water pump is compatible with the standard 0.75-inch garden hose. Therefore, you will not require to buy a new hose, especially for this pump. In case you want to move the pump or the hose around, you can easily do that due to the 25-feet long power cord.
How to Choose a Pool Cover Pump – Buyer's Guide
Before making a purchase that you are likely to admire, you will have to consider a few things. Given below is a list of things you must look for while buying a Pool Cover Pump.
Manual or Automatic
Automatic pumps are no doubt much more expensive than manual pumps. However, if you're working on a budget, a manual pump will do the job perfectly as well.
A manual pump requires you to be outside, pumping a level to remove water by yourself. If you are particular about keeping your pool cover clean and like to clean as soon as you see a puddle, this is okay for you. However, if you miss checking for a few days and multiple puddles accumulate, cleaning the pool cover will become a workout session.
AN automatic pump can be left on the cover, and it will automatically turn on as it detects if water accumulates on the cover. Even though it allows you to relax a little, you still have to keep an eye on how it is working now and then.
Rainfall Intensity
There is no doubt that the biggest reason why water accumulates on pool covers is rainfall. Automatic pumps usually have a higher flow rate than manual pumps. If you lie in areas that scarcely get rainfall, there is no point in buying expensive automatic pool cover pumps. However, if you live in heavy rainfall areas, using a manual pump can be a headache.
In case you are using an automatic pump in a low rainfall region, your pump will hardly ever get to work. This might freeze the machinery and compromise the pump's durability. However, if you are using a manual pump in a heavy rainfall area, you will have to do a lot of physical work to keep your cover clean.
Durability
Buying a non-durable pool cover ump is similar to buying a clogged-up drainage hose. It is useless and will not be of any use after only a small duration. A pump's longevity is important because the pump's value for money increases the longer it is used. The brand's reputation is a great way to determine if the product is going to last.
Cord Length
The length of the power cord is an important factor for both types of pool cover pumps. If you are using a manual pump, you will require a long cord to ensure that you can maneuver freely to clear puddles. In case you are using an automatic pump, using an extension cord might not be safe due to frequent power fluctuations.
Debris Filter Efficiency
The pump must be able to catch debris but not pass it to the hose. You must make sure that the hose's longevity is preserved by the pump that you are using. Make sure to read enough reviews to ensure that the pump will completely filter out debris and leaves.
Stability
Ensure that the pump that you are planning to buy can hold itself upright even if it meets with a heap of debris. If the pump falls on the pool cover, it can cause tears and cause technical accidents.
Submergibility
If a pump is completely submerged in water, it will have the efficiency to clean water levels higher than its height. This gives you a massive advantage if your pool cover gets loose and forms a deep puddle in the middle.
Choosing the right pool cover pump for yourself can be a tricky task. You have to consider many things before deciding the type of pump that you want to buy. Once you have decided whether you want a manual or an automatic pump, you will have to consider many things before choosing from a huge variety of products.
From the list consolidated in the article, you can choose the right product according to your requirements. You can consult the extensive buyer's guide to make the right purchasing decision.
Subscribe & Get The Latest News