At first, you may think buying a steam cleaner is an investment made in vain. However, this may be an uneducated opinion because the more you learn about them, the better they get. A steam cleaner has a multitudinous array of uses that will surprise you.
If you are one to be very cautious of the way you clean your homes, a steam cleaner is a must-have. This product will eliminate a bunch of other cleaning items from your homes instantly. You can use a single steam cleaner to clean almost everything in your homes.
One of the biggest benefits of incorporating steam cleaning devices is the eradication of chemicals from your house. Chemical disinfectants do more harm than good to the health of your loved ones. 
Initially, you may think a chemical-based disinfectant is the only way to get rid of the pesky little pests from your homes. However, this steam cleaner could change the way you think. Clean your homes with nothing but water, and you will be left beyond satisfied.
The best multipurpose steam cleaners claim to assist in the removal of pests from your homes. If you are a victim of bed bugs, cockroaches, or even mold, all you need is a trustworthy steam cleaner. 
Here are a few features of multipurpose steam cleaners that can help you make the right purchase.
Best multipurpose steam cleaners that you can buy
This steam cleaner utilizes 226 ℉pressure to clean the surface of any object. This heat and pressure ensure thorough cleaning of your everyday objects with great efficiency. You can use this high-pressure steam to remove stains from any surface. It works great for floors, windows, and even other electrical appliances like air conditioners.
This steam cleaner comes with a 1.5L water tank. You will need to wait for about 8 to 9 minutes for the water to heat up to the desired temperature. After this, you can use this steam cleaner for approximately 40 minutes at a stretch without any breaks or refills.
One of the best features of this product is the addition of wheels. You can easily move this steam cleaner around your house and clean any surface that you want. Its long power cord and extension tubes make it very easy to clean all the corners of your house. 
This product is great for all the settings you can use it indoors and even outdoors if you please. The long extension cable allows free movement without any obstructions. Go ahead and use this steam cleaner in your homes to sterilize, get rid of odor, or even mite infestations!
This 18-piece steam cleaner earned its spot on this list because of its countless features. It is one of the best multipurpose steam cleaner appliances that you could opt for. It has a great design, which makes it the perfect steam cleaner for both indoor and outdoor settings. This steam cleaner is lightweight, moveable, and compact, which makes it the perfect appliance to have at home.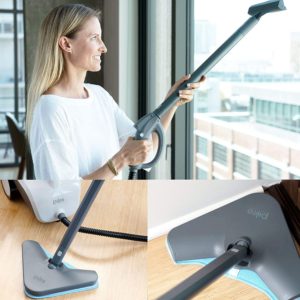 The device is a highly powerful appliance having a total power output of 1500 Watts, which comes with a 16-foot extension cable. You can fill the 1.5L tank to the brim and use this steam cleaner for a total of 45 minutes without any breaks. The high pressure and temperature make it a great choice for cleaning all types of surfaces. 
You can use this multipurpose steam cleaner to clean your floors, windows, and other surfaces within your house or outside it. One of the best parts of this steam cleaner is that you will be cleaning your homes without any chemicals. This healthy approach is great for you and the environment.
The steam cleaner comes with a wide range of detachable heads, which can help you clean a large number of surfaces. This steam cleaner only takes about 30 seconds to heat up before you can use it. One of the most attractive features about it is easy to use the power switch. You can also switch the settings from low to medium or high. Getting rid of tough grease stains and marks was never easier. You can reach all the nooks in your house and clean them thoroughly using this multipurpose steam cleaner. This steam cleaner has multiple heads that you can use on your upholstery, floors, marble, and even glass. Get a chemical-free cleaning experience like no other with one of the
best multipurpose steam cleaners
!
The water tank in this steam cleaner is 1.4L or 48 ounces. This means you can fill it up once and use it for a long time cleaning your house. This steam cleaner requires only about 8 minutes to heat the water for use.
After heating, you can use it for 45 minutes. The water pressure in this steam cleaner is approximately 43 psi. This is enough to get the toughest of the stains from any surface. The heat makes it possible to use this appliance without any chemicals and disinfectants.
With 18 accessories, you can use this steam cleaner to clean almost all the surfaces in your house. It comes with a 15-foot cable so you can plug it in anywhere and conveniently move around the house!
The cleaner comes with a 15-foot long cable, which helps in the portability factor of the appliance. Along with this, a 6-foot cleaning tube can help you reach the toughest spots at home while cleaning. You can easily move this steam cleaner around because of the wheels attached to it.
If you want to throw out all your chemical disinfectants, you can use this appliance as a great cleaning substitute. It heats the water to above-boiling temperatures and exudes it out in the form of steam. This hot steam can eliminate most pathogens using heat. 
The tank capacity of the item is approximately 1.4L, and it takes only 8 minutes to heat all the water stored in its tank. After this, you can use your steam cleaner to clean your home for over 45 minutes at a stretch.
It comes with 15 accessory heads, which makes this device good for many surfaces. This appliance can clean grease, oil, mud, and even mold from all the surfaces in your homes. It also comes with a 2-year warranty that you just cannot miss out on. 
Here are a few things that you need to keep in mind before you buy yourself the best multipurpose steam cleaner. Be on the lookout for these features so you can pick the perfect appliance for your home!
Buying guide: What you need to consider before buying the best multipurpose steam cleaner?
1. Tank capacity 
A small tank will require frequent refills. This will result in a lot of obstruction in your cleaning process. So, when you are out to buy a steam cleaner for yourself, be sure to check its tank capacity. Certain steam cleaners have a back-up tank that can give you that extra cleaning time!
2. Warm-up time
You may find it frustrating if your steam cleaner makes you wait around for a long time before you can use it. Warm-up time is the time required by the machine to heat your water to optimum temperatures. This time shouldn't exceed more than a few minutes.
3. Heating Temperatures
Heat is the only factor that makes your steam cleaners unique and useful. All good multipurpose steam cleaners should exceed at least 200℉ temperatures before they can be used. This is because temperatures below that will not sanitize the surface you wish to clean. 
Hot steam is also dryer in nature. This type of steam not only eliminates bacteria and harmful pathogens, but it is also great for your furniture. Dry steam does not degrade the quality of wood or upholstery due to the lack of water damage.
4. Affordability 
At the end of the day, it all boils down to the price. If you have a budget set for your steam cleaners, then you should stick to it. However, you must realize that a higher price point will not only buy your features on the machine but more. You will get years' worth of a warranty on your product and even free servicing if you agree to pay a high cost. 
5. Features
You will need to make sure that the appliance you buy has enough features to help ease your cleaning process at home. The best multipurpose steam cleaners have many uses, from floor cleaning to sofas and other upholstery too. Pick one that could work with all your requirements.
A steam cleaner could be a great addition to your cleaning appliances. This device could singlehandedly make your cleaning job easier at home. It is about time you replaced your harmful chemical disinfectants with something more natural and safer. Take advantage of all the additional features of steam cleaners to have to offer too. Check out the above-mentioned devices to find something that could benefit you greatly!
Subscribe & Get The Latest News