Designing a house is an intricate task. The most important aspect to note while designing a house is to make it luxurious as well as comfortable. Making your home comfy and cozy is a strenuous activity. It requires a lot of energy and a good budget.
Most people feel it perplexing to decide what to do for making their home comfy and inviting on an affordable budget. I have done some research and found some very fruitful tips to make your home comfortable and relaxing. Let's see them.
1- Getting Rid Of Clutter
Clutter is the most stressful thing that most of us have in their homes. It is an untidy collection of different stuff in a house. It is found at many places in our homes, especially in kitchens and in garages. Clutter is a major reason for stress and discomfort as it keeps your home untidy. It often gives a messy outlook to your house.
Eliminating clutter is not too difficult, but it's a bit time taking task. Take a tour of all things in your home and take out the things that you don't need. Throw them out of your home or give them to someone who needs them. By eliminating all the clutter, your home will look more elegant and cozy.
2- Making The Walls Lively
After decluttering your house, comes the step of thinking about the walls. The first thing to notice on the walls is the color of the paint. Wild and dull colors feel to be annoying and disturbing. Replace dull colors from walls with light and lively colors. Light colors make you stress-free and have a cozy effect.
You can also color the three walls with a light color and the fourth one with a darker color. It looks comfy as well as trendy.
Another addition that makes the walls up-to-date is displaying artwork. Different beautiful sceneries not only make your walls lively but also boost your mood.
You can add memorable pictures that make you happy and motivated. Displaying pictures in different ways will enhance the outlook of the wall.
3- Arranging Plants And Fresh Flowers
The best way to enhance the ambiance of your house is to add some greenery to your home. Plants not only freshens the air but also have a positive effect on mental health. Anyone can be delighted by the greenery and sweet smell of beautiful flowers.
Making a lawn with a lot of plants and trees is the easiest and the most affordable way to improve the comfort of your house. Large potted plants and flowers can brighten your mind whenever you feel dull.
Displaying succulents or fresh flowers on your table is better than putting clutter there. Elegant colors and the sweet smell of flowers fortify both your mind and soul.
4- Lighting Arrangement
If your living space looks dull and uninviting even after adding artwork and other attempts, consider changing the lighting. Try illuminating that space with a better lighting arrangement.
For outdoor space, consider lighting your front door first. Hanging lanterns or installing lamps on both sides of the door make your entrance feel welcoming. The yard can be decorated with string lights. String lights look prettier in the yard having trees and a lot of plans. It gives a striking outlook to your yard.
Illuminating indoor space is a bit trickier than outdoor lighting. LED bulbs are best for illuminating a room. Surface-mounted fixtures also look sophisticated in a living room. You can install chandeliers in your dining room as they cast a classical outlook and make your meal more enjoyable.
5- Adding Rugs
Putting off your shoes and walking bare-footed make a person relaxed and stress-free. You can enjoy this experience in your home by covering the floors with rugs. Soft, fluffy rugs provide a cozy effect and eliminate your stress.
Rugs look stylish and elegant. Though adding rugs is an expensive investment, but it sure makes your home comfy.
6- Improve Your Kitchen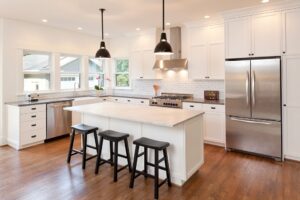 The kitchen is the most important part of your home. Keeping it clean and tidy is not too simple. You can improve your kitchen by adding the following things.
Adding a paper towel can help keep your hands and your kitchen clean while cleaning.
Installing towel holders can manage the towels. If you do not have enough space, you can add the one that could be installed in the cabinets.
Getting an electric stove also makes your kitchen up-to-date and more convenient. Electric stoves can are portable and can be shifted to any other place easily.
Installing a spoon rack can secure your spoons.
Keep your knives separate to keep them sharp.
Cook a delicious meal with your friends and family and enjoy it.
7- Get Comfy Throws and Cushions
Making any house feel homely might be hard without throws. A soft throw blanket is the best thing to grab on a cold evening. Throw blankets not only keep you cozy but also look stylish and beautiful with multiple patterns and colors.
Another thing to add to your house is the cushions. Investing in good-quality pillows make your home comfier. You can place them in various areas of your house, from your bedroom to the outdoor space. They look relaxing as well as appealing.
You can get various types of pillows, like long pillows for your bedroom, throw pillows for your couches, and sitting pillows to watch a movie.
8- Installing A Music System
Music makes a person calm and happy. It boosts your mood and keeps you lively. It also improves your working capabilities. Hearing music while doing something strenuous keep the fatigue away.
After adding all the essential things in your house, comes the step of installing a whole house music system. Furthermore, you can invest in different types of equipment for making your music system better. Make a collection of songs that makes you happy whenever you feel upset.
No doubt, making a home comfy is a difficult task, but the above tips will surely assist you in your journey to make a better home. Use them and make your home more comfortable and lively. Stay safe, stay happy.