Building a home theater has become an easy and accessible task due to modern tech. With a perfect home theater, you can enjoy a cinema-like environment in your house with your family and friends.
If you do not have much space for making a home cinema, don't worry. You can use your living room for this purpose. With a little money and a few tips, you can successfully transform your living space into an enjoyable cinematic shrine.
Are you ready? Let's started.
1- Add A Big Screen
When it comes to theater, the primary device you need is a huge screen. You can add a flat-screened LED TV or a projector, depending on your taste. Adding an LED TV instead of a projector is a better option as it looks more elegant and trendy.
Fortunately, in 2020, adding a high end LED TV is not a too costly task. You can get a fat TV with a 3D display and 4K resolution at an affordable price. The TV market has many high-quality, huge screened TVs that you can get in any price range. You can also choose a curve screen for your home theater as it looks more stylish, but keep in mind your budget when you go for buying a TV.
Though the projector is a portable device, adding it to your living room needs a lot of space and they are quite expensive too. A very few best home projectors under 1000 provides you with the great video quality and high-end features. You need more lighting adjustments for projectors and their setup is more complex than that of TV.
2- Controlling Unwanted Sound
Ambient sounds and reflected sound due to inner sources both can disturb your entertainment time. Controlling unwanted noise from external as well as from internal sources is required to make your screen time relaxing and enjoyable. Even if your living room is away from household noise, you still need some more steps to overcome the noise.
For controlling ambient sound, you have to soundproof the walls of your living space.
Installing zero-sound drywall in your living room can effectively reduce the noise from external sources.
Mounting panels on the walls of your room absorb unwanted sound and help in making your room free of noise.
Installing solid doors instead of hollow cores also
Carpeting your room also cause sound deadening.
Reflected sound can be absorbed by sound-absorbing materials.
Sound can be absorbed by adding draperies. Draperies absorb both the ambient sound as well as the reflected sound.
Rugs and cushions can also be added for absorbing the unwanted reflected sound.
A careful balance is required while adding sound-absorbing materials as excessive sound absorption can make the sound faint.
3- Installing a Sound System
Your large screen is of no use without a good sound system. Unfortunately, most of the TVs lack an admirable sound system. To build a sound system you need high-quality speakers and subwoofers. You can use bookshelf-sized speakers if your room is small as these speakers could be mount on a shelf or cabinet. For a spacious room, you can install floor standing speakers.
Building a surround system can also be a better idea. It can enhance the depth of the sound by using multiple audio channels and sound can be heard easily by the listeners.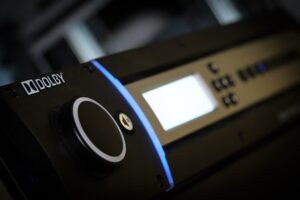 Buying high-end speakers are also essential to build an excellent sound system for your home theater. Keep the following tips in your mind while buying speakers:
Choose a speaker that has a high frequency.
Buy a speaker that has high sensitivity as it can produce a sharper sound.
Choose the speakers with a low wattage as it would be more compatible with other devices as compared to the one with a high wattage.
4- Lighting
Lighting has a major contribution in giving an outlook of theater to your living room. Try to limit the natural light in your room as its excess can disturb the image of the TV or projector. You can control the ambient light by installing curtains on the windows.
For illuminating your theater room, you can use some good floor lamps as they look elegant. You can add recessed lights on the bottom of soffits or the ceiling. Installing Philips Hue bulbs on the ceiling with dimmers is also a nice idea. You can also try backlighting as it reduces the strain on the eyes.
Install dimmers with the lights as they can help in controlling the brightness of your room. You can adjust the brightness in your room according to your requirement.
5- Furniture
Adding proper furniture helps a lot in transforming your living room into a cinema space. You can use tiering chairs if your room is spacious. Raise the last row so the viewers on the back could watch the TV conveniently.
You can also add a comfy couch as it looks luxurious as well as comfortable. You can sit on your comfy couch and enjoy the screen experience. Adding cushioned or lounge chairs is also a better option.
Don't forget to place the seats at a proper distance from the screen. The seating arrangement should be such that all the viewers could watch the screen easily.
6- Paint Color On The Walls And Ceiling
Paint color on the walls of your room is a notable factor. For converting your regular room into a home cinema, paint the walls with dark-colored paint, like grey, brown, or black. You can also use dark red paint on the walls as it gives a luxurious view. Dark-colored paint not only contributes to the outlook of your room but also contributes to absorbing light.
You can paint the ceiling while colored-paint as it reflects the light. Tone the ceiling with grey or any other natural color as reflection is not required for the theater room.
7- Snacks And Drinks
For a perfect theater transformation, equip your room with some snacks and drinks. Your entertainment time would be incomplete without it. Add a popcorn maker in your room to fill your room with the iconic aroma of a movie theater. Fizz the soda in the soda maker and enjoy the cola you like. With modern tech, you can make your snacks and soda in your room and enjoy it as you like.
With the above simple tips, you can easily transform your living room into an amazing home theater. So don't waste your time and start transforming your living room into a perfect cinema space.